Score after 11 overs
WXI 73-5
Score after 10 overs
WXI 68-5
Imad Wasim
4-0-34-1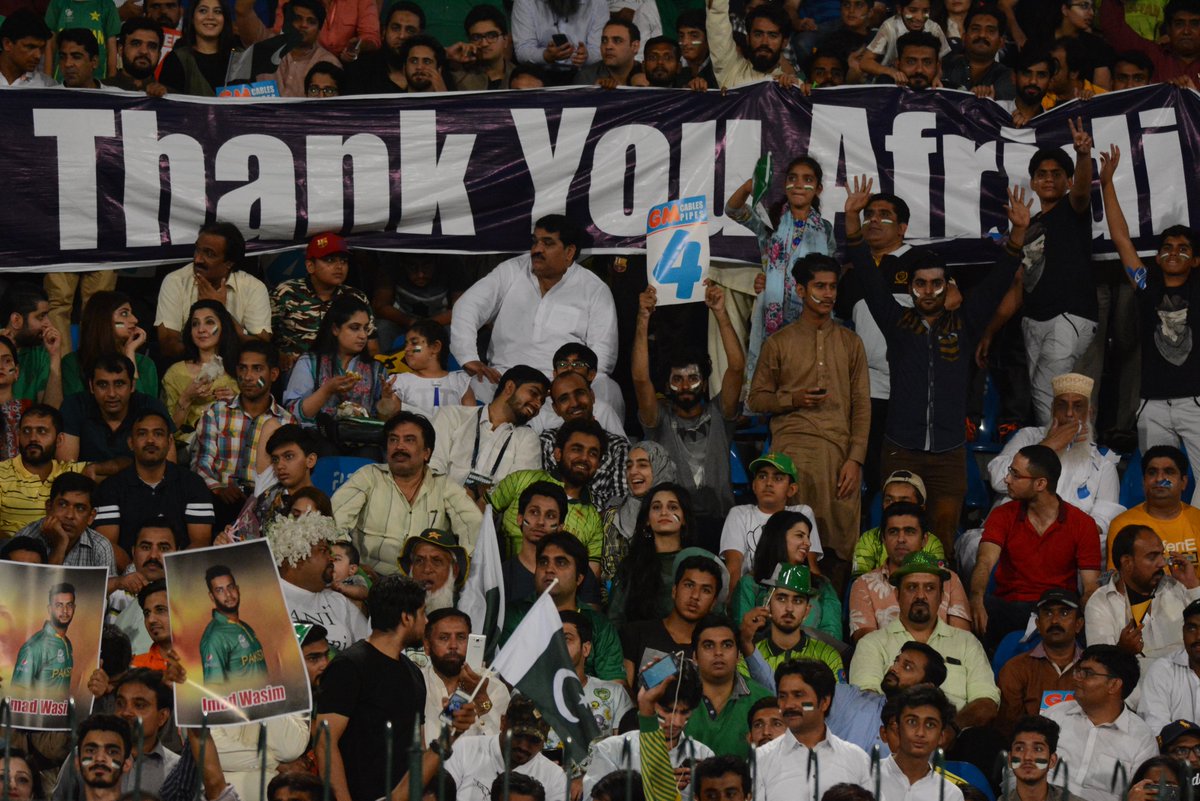 Score after 8 overs
WXI 53-4
OUT! 7.4 Imad Wasim to Bailey
Watch the match at https://t.co/ZWOxe07EbG#CricketKiHalalala #PAKvWXI pic.twitter.com/leoGtUf8CV

— PCB Official (@TheRealPCB) September 15, 2017
Courtesy: PCB Official Twitter Handle
Score after 7 overs
WXI 50-3
OUT! 4.3 Hasan Ali to du Plessis (run out) Amla
Watch the match at https://t.co/ZWOxe07EbG#CricketKiHalalala #PAKvWXI pic.twitter.com/hNoBNXwTvr

— PCB Official (@TheRealPCB) September 15, 2017
Courtesy: PCB Official Twitter Handle
Score after 6 overs
WXI 43-3
Score after 5 overs
WXI 43-3
OUT! 4.2 Hasan Ali to Cutting
Watch the match at https://t.co/ZWOxe07EbG#CricketKiHalalala #PAKvWXI pic.twitter.com/pYwNObg4zk

— PCB Official (@TheRealPCB) September 15, 2017
Courtesy: PCB Official Twitter Handle
Score after 4 overs
WXI 37-1
Usman Khan
2-0-16-1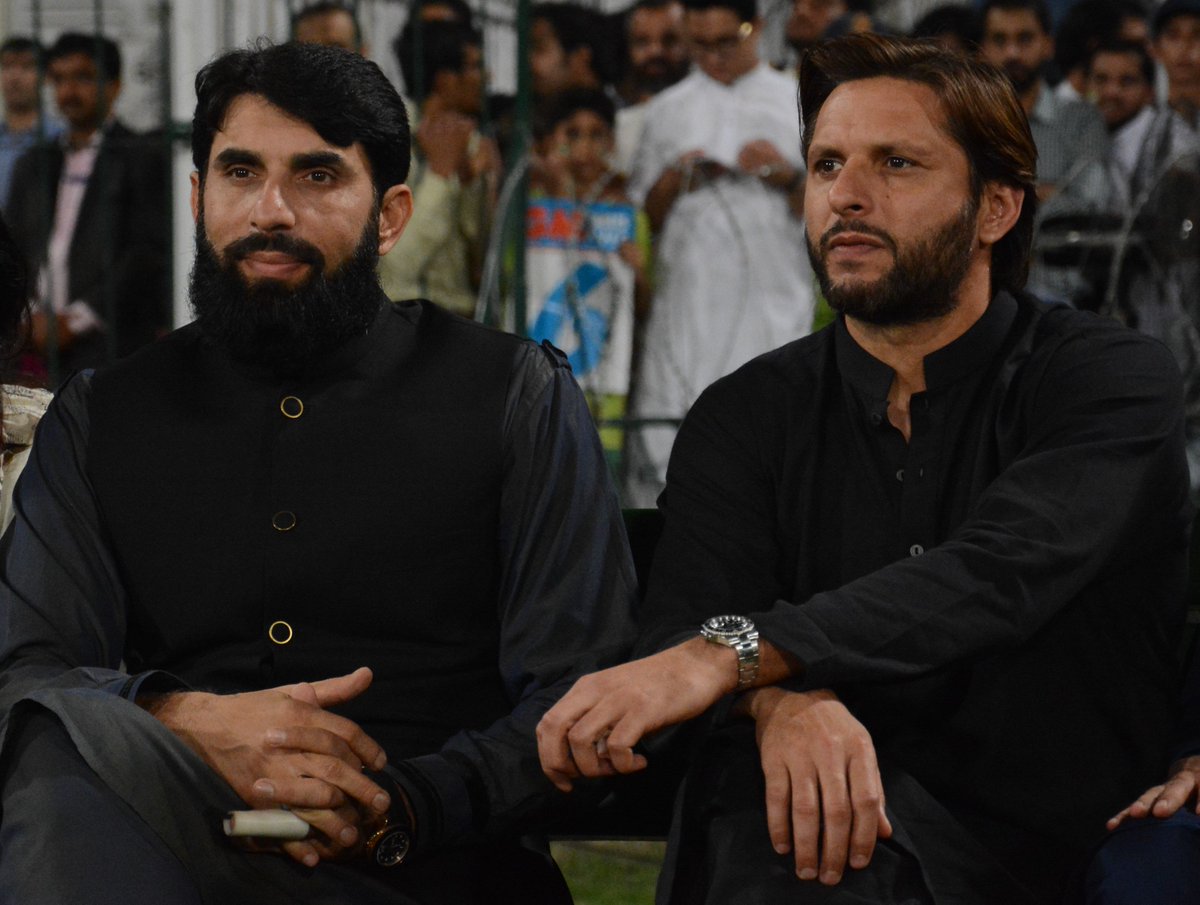 Score after 3 overs
OUT! 1.6 Usman Khan to Tamim
Watch the match at https://t.co/ZWOxe07EbG#CricketKiHalalala #PAKvWXI pic.twitter.com/lUQKkDyITz

— PCB Official (@TheRealPCB) September 15, 2017
Courtesy: PCB Official Twitter Handle
Score after 2 overs
WXI 15-1
Score after 1 overs
WXI 13-0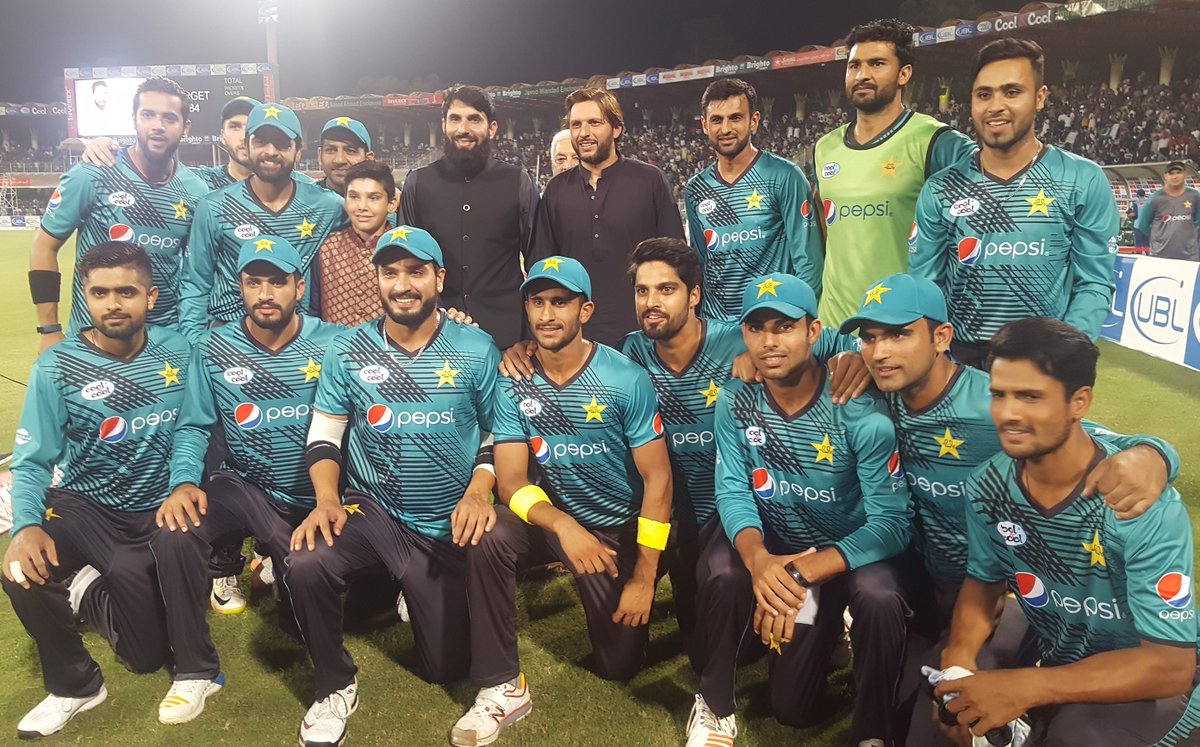 Pakistan Score Card
Score after 20 overs
PAK 183-4
Score after 19 overs
PAK 175-2
OUT! 19.1 Thisara Perera to Babar Azam
Watch the match at https://t.co/ZWOxe07EbG#CricketKiHalalala #PAKvWXI pic.twitter.com/8PymCpOoe0

— PCB Official (@TheRealPCB) September 15, 2017
Courtesy: PCB Official Twitter Handle
Score after 18 overs
Score after 17 overs
Score after 16 overs
PAK 127-1
Score after 15 overs
PAK 117-1
Pakistan off to a solid start, what is a safe total on this Gaddafi pitch? #CricketKiHalalala#PAKvWXI pic.twitter.com/Bwaxde5rpD

— PCB Official (@TheRealPCB) September 15, 2017

Courtesy: PCB Official Twitter Handle
Score after 14 overs
PAK 107-1
Thisara Perera [1.0-0-13-0] is back into the attack
Score after 13 overs
PAK 101-1
Score after 12 overs
Score after over 8

PAK 59-0
Score after over 7
PAK 53-0
Score after over 6
PAK 51-0
Thisara Perera
1-0-13-0 Score after over 5

PAK 38-0
Score after over 4 
PAK 34-0
Score after over 3
PAK 28-0
Score after over 2

PAK 22-0
Morne Morkel
1-0-10-0
Morne Morkel, right-arm fast, comes into the attack
Score after overs 1

PAK 12-0
Final Teams:
World XI (Playing XI): Tamim Iqbal, Hashim Amla, Faf du Plessis(c), George Bailey(w), David Miller, Thisara Perera, Darren Sammy, Ben Cutting, Samuel Badree, Morne Morkel, Imran Tahir
Pakistan (Playing XI): Fakhar Zaman, Ahmed Shehzad, Babar Azam, Shoaib Malik, Sarfraz Ahmed(w/c), Imad Wasim, Mohammad Nawaz, Shadab Khan, Hasan Ali, Usman Khan, Rumman Raees
.@faf1307 won the toss for the World XI and elected to bowl first #PAKvWXI #CricketKiHalalala pic.twitter.com/4zaXIoSboe

— PCB Official (@TheRealPCB) September 15, 2017
Sarfraz: We would try to bat first and put up a big one on the board. There was a problem with the execution in our earlier game and that was the issue. We shouldn't set the target as 200 at the start, we need to assess the conditions and plan accordingly. We would look to start with 170 and take it from there. I have enjoyed playing out here and the crowds have supported us well. Let's hope this one is organized just as well.
World XI have won the toss and have opted to field
Faf: We are going to have a bowl. It looks like a good wicket and our batting is the X-factor for us. Sammy comes back as well and that would help. If you look at the power hitting we have it is a big factor. I love to try and take wickets; keep thinking from the bowler's perspective to take wickets.
Hello. We're in for the third installment – the final that would determine the future course of events with Pakistan, in Pakistan. No, not the result, the staging. But the series that was fast losing context and steam have Thisera Perera to thank. Playing when he shouldn't ideally have, he took his side past the chequered post when he ideally shouldn't have. So, an Independence Cup is to be won, and for one final time, a revamped Gadaffi is all set to bask in the colour and the crowds who've come in 'overpriced'.
Click Play Button To Watch This Video
Welcome
5.00 pm
Both Pakistan and World XI Teams reached at Gaddafi Stadium to play final game. Fans and spectators enthusiastically welcomed them.
Teams:
Pakistan (From): Fakhar Zaman, Ahmed Shehzad, Babar Azam, Shoaib Malik, Imad Wasim, Sarfraz Ahmed(w/c), Sohail Khan, Mohammad Nawaz, Shadab Khan, Usman Khan, Rumman Raees, Umar Amin, Fahim Ashraf, Hasan Ali, Aamer Yamin.
World XI (From): Tamim Iqbal, Hashim Amla, Tim Paine(w), Faf du Plessis(c), Thisara Perera, David Miller, Paul Collingwood, Ben Cutting, Samuel Badree, Morne Morkel, Imran Tahir, Darren Sammy, Grant Elliott, George Bailey.
When: Pakistan vs World XI, 2nd T20I, 15th September, 7:00 PM Local Time
Where: Gaddafi Stadium, Lahore
Pakistan: Hasan Ali, who had to sit out due to a back issue, is likely to return to the side.
What they said
Babar Azam: It's obviously difficult to play your own home series away from home. Playing at home is relatively easy for us
Faf du Plessis: I expect the third match to be in similar conditions and hope to continue the form.