Web-Desk (January 20, 2018): Needless to say as it's a proven fact now that breakfast is the most important meal of the day. The claim becomes more true especially when you are trying to maintain a healthy weight or lose it.
There are many, many more reasons to eat breakfast everyday rather than to skip it. Having a healthy breakfast in the morning satiates your hunger and sluggishness throughout the day.
It is also a must if you are on a weight loss plan because it fuels your body for the day along with boosting your metabolism which is one very important factor for losing weight.
It leads to a lower BMI and makes you feel less hungry throughout the day, and this in turn stops you from bingeing. Here we bring to you a list of five healthy breakfasts that will aid your weight loss programme.
Oatmeal
Not only in one but oatmeal can help you lose weight in two ways. Firstly, a recent study claims that eating breakfast with slow release carbohydrate like oatmeal or bran cereal three hours before you work out may help you burn more fat when you exercise.
This happens because slow releasing carbohydrate foods do not spike the blood sugar as much as refined carbohydrates do. This in turn controls insulin levels.
Secondly, oatmeal is rich ion fibre and thus, keeps you fuller for longer and stops you from bingeing.
Eggs
Our all-time favourite eggs are not only delicious and can be made in different varieties but also are a great friend when it comes to weight loss. Eggs are rich in protein, which is great for people who are trying to lose weight.
Proteins keep you satiated for longer as compared to carbs and fats. In a recent study, people who consumed eggs for their breakfast felt fuller for longer and lost twice weight than those who got same number of calories from some other nutrient.
Yogurt
A report published in New England Journal of Medicine revealed the topmost foods that are related with weight loss. The good news is that yogurt was among top five foods! Do we need to say more?
Choosing plain yogurt not only provides you with protein but also saves the unnecessary calories and sugar that you consume from some other sources offering you same amount of protein. To make it a little sweet or for a change in flavour, you can add fruits to your yogurt.
A simple recipe of peanut butter shake to kick start your day:
Take 1 cup of unsweetened almond milk, 1 scoop of protein powder, 1 banana and 1 tbsp of peanut butter. Blend them together and its ready.
This shake is not only filling but also helps to kick-start your day by providing you with a perfect balance of fats, carbohydrates and protein, without an abundance of calories.
A bowl of green salad
We usually do not focus on veggies during our breakfast. But only if you knew that veggies should actually be making up half of all the meals that you take, things would be different. But people who really struggle with eating vegetables can consume them by adding them to their omelette or sandwich.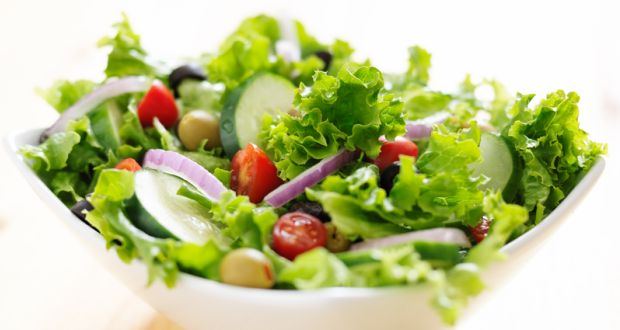 Vegetables are rich in fibres and contains all the important minerals that one needs. These nutrients are not only important for losing weight but also for being healthy in general.
Courtesy: Times of India