Tehran (November 7, 2017): Iranian minister of defence, Brigadier General Amir Hatami, declared here on Tuesday that Tehran sees Islamabad's security 'as its own', Iran's official news agency IRNA reported.
In his meeting with Army Chief General Qamar Javed Bajwa, Hatami said, 'Respect for territorial integrity, solidarity and national sovereignty of the regional countries is among the fixed principles of the Iranian foreign policies.'
Click Play Button To Watch This Video
He further said that Tehran-Islamabad relations are in line with strengthening defense capabilities of both neighboring countries.
Referring to the regional and international developments, Hatami described the presence of the Pakistan Army Chief in Iran as a move to fortify bilateral relations in the areas of security and stability.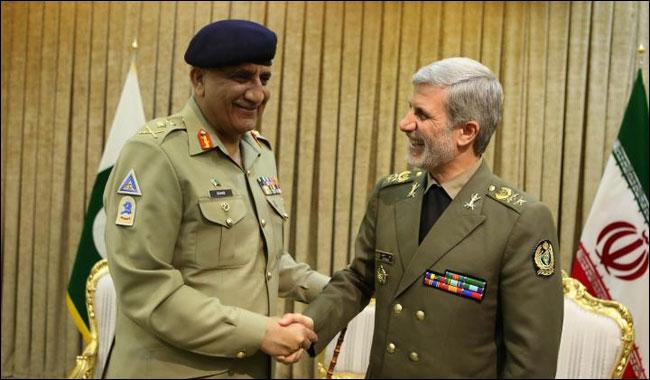 'Our policy is on development of ties with neighbors,' Hatami said adding Pakistan as Iran's neighbor, having a long border crossing and religious and cultural commonalities with Iran, has 'a special position' in the country's foreign policy.
Iran supports Pakistan's defence and military achievements within the framework of strengthening regional security and stability, the Iranian minister added to his words, according to IRNA.
Hatami hoped that cooperation between Tehran and Islamabad will lead to help establish peace in Kabul, the neighboring state suffering from 37 years of crisis.
In the meeting with Iranian Defence Minister, General Bajwa said that in the present conditions the unity among Muslim countries is a necessity to restore peace and security.
Army Chief General Qamar Javed Bajwa arrived in Tehran on Monday to hold talks with the Iranian officials on the issues of mutual interest, border security and defense relations between the two countries.
Related News: