MEXICO CITY: A photo of a drowned father and his two-year-old daughter at the US-Mexican border surfaced on Wednesday. The two died attempting to cross the Rio Grande that divides both countries. 
The image, which showed the girl still holding on to her father, lying face-down in the water, was published by a Mexican newspaper, and it has served to highlight the high-risk migrants' face on the perilous journey to the US.
Authorities found the bodies of 25-year-old Oscar Martinez Ramirez and his daughter Valeria on Monday, after a 12-hour search.
The mother, Tania Vanessa Avalos, who attempted to cross the river too and survived, recounted the tragic story to authorities and media outlets.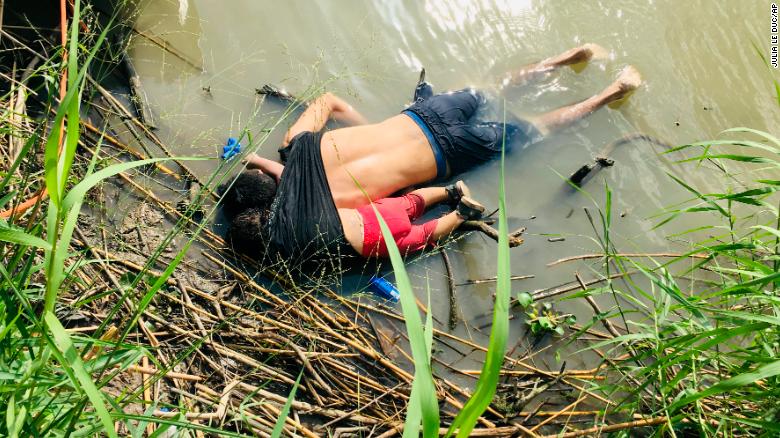 The journalist, who took the picture, reported that the family had been in Mexico for two months on a humanitarian visa they obtained at the Guatemalan border.
On Sunday, they went to a point of entry to request asylum on the Mexican city of Matamoros, which borders the US city of Brownsville, on the easternmost part of the border.
As the Mexican border office was closed on Sundays, the family then set out on foot along the river, until they reached a point where they tried to cross.
Frustration with the inability to process his family's case appears to be what motivated the father to attempt the dangerous crossing.
Martinez Ramirez swam to the US side of the river bank and left his daughter there, to head back to the Mexican side and help his wife cross. But the child jumped into the water as he was on his way.
The father rushed back, managing to grab his daughter and hold on to her, but a strong current swept them away.
Much of the US-Mexico border is covered by desert and the Rio Grande. Many migrants attempt to cross the river, which is said to cover roughly 1,000 miles (1,600 kilometers) of the 1,933-mile border. While it appears calm, the Rio Grande is a fast-moving river and through it flow dangerous currents.
According to the US Customs and Border Protection (CBP), a total of 283 migrant-crossing deaths were recorded at the border in 2018, but these figures may provide an incomplete picture.