New Delhi (January 14, 2018): Israeli Prime Minister Benjamin Netanyahu arrived in New Delhi on Sunday for the first visit by an Israeli leader to India in 15 years, promising closer ties with India.
The visit marks 25 years since India and Israel established diplomatic relations, but comes just weeks after India voted in favour of a United Nations resolution denouncing United States President Donald Trump's recognition of Jerusalem as Israel's capital.
Netanyahu and his wife Sara were welcomed at the international airport in New Delhi by Indian Prime Minister Narendra Modi who made history in July 2017 when he became the first Indian leader to visit Israel.
Netanyahu will be only the second Israeli PM to visit India and the first since Ariel Sharon in 2003.
Modi ─ who will accompany Netanyahu for large parts of his tour ─ embraced the Israeli prime minister on the tarmac before the pair set off to pay homage at a war memorial in the Indian capital.
The Israeli leader will later meet with Foreign Minister Sushma Swaraj before a private dinner with Modi. Netanyahu's office put out an announcement saying that Modi's greeting was a "surprise welcome" because a Cabinet minister had been scheduled to attend instead.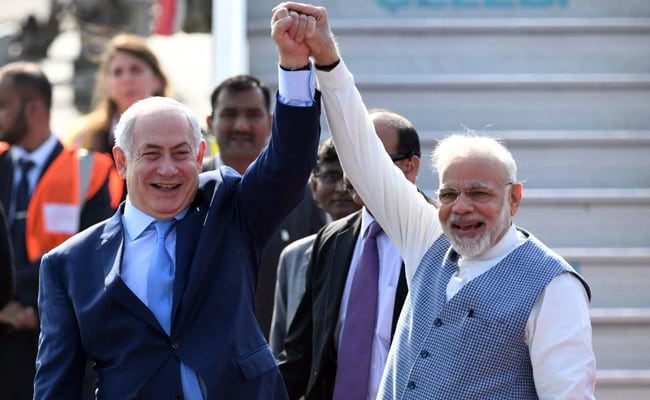 "I very much appreciate the gesture," Netanyahu said.  "Your visit to India is historic and special. It will further cement the close friendship between our nations," Modi said on Twitter.
During Netanyahu's six-day stay the two countries are expected to sign agreements on cybersecurity, energy and space cooperation and film production, India's External Affairs Ministry said.
They're also expected to review progress in implementing agreements on cooperation in technology, water and agriculture that were signed during Modi's visit to Israel.
"This visit is an opportunity to enhance cooperation with a global economic, security, technology and tourism power," Netanyahu had said in a statement ahead of his visit.
"Indian Prime Minister Modi is a close friend of Israel and of mine." Netanyahu is accompanied by the largest-ever business delegation to travel with an Israeli leader.
Related News: