Peshawar (June 24, 2018): Muttahida Majlis-e-Amal (MMA) leader Maulana Fazlur Rehman claimed that the Khyber Pakhtunkhwa's economy has been completely destroyed by the previous provincial government.
Addressing a public rally at Ring road, Rehman said that the PTI government indebted the people of the province by Rs325 billion.
Click Play Button To Watch This Video:
"The Muslim world looks towards Pakistan for the resolution of persisting issues," he said to a charged crowd, adding, "change will only come if we  raise the flag of Islam in country."
The Jamiat Ulema-e-Islam F chief also congratulated Tayyap Erdogan on the recently-held polls in Turkey.
Earlier Jamaat-e-Islami Chief Siraj-ul-Haq addressed the gathering, saying that the public needs to get the country rid of corrupt mafia through vote.
He said that the leaders of the parties included in the coalition don't have their names in Panama.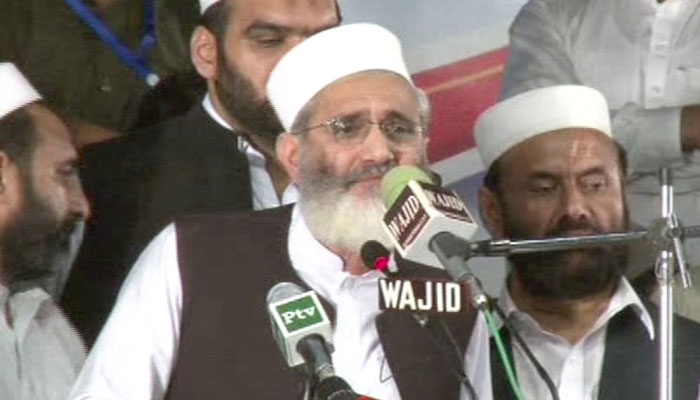 The JI emir said that the National Accountability Bureau failed to hold accountable corrupt people and now public will do it.
Siraj said that the coalition will implement Shariah in the country even if its given a-day to govern the country.
"We need real democracy here not a Lotacracy," he said.
Related News: