Lahore (July 3, 2017): Following the death of one more injured in Lahore burn unit, the death toll of Ahmedpur Sharqia oil tanker inferno has risen to 207.
According to hospital officials an injured of oil tanker tragedy, Bashir 23, has died in burn unit of Jinnah hospital, Lahore that raised  the death toll to 207.
Bashir brought here eight days ago in serious conditions as 93 per cent of his body was burnt that caused his death. After the incident 23 injured brought to Jinnha hospital and out of them 14 has lost their lives so far.
Earlier, one more injured died in Nishter hospital Multan. The focal person of the tragedy, Dr Amir told that an injured treated in Nishter Burn Unit, Multan had lost his breath that took the death toll in Nishter Burn Unit to 48, however 17 injured being treated here.
On Friday , the funeral prayer of eight victims of oil tanker inferno, who died during treatment in different hospital, was offered in Multan.
It may be mentioned here that dozens of burn victims are under treatment at various hospitals.
On June 25, a day before Eid-al Fitr, the tanker carrying 40,000 litres of fuel overturned after trying to make a sharp turn while traveling from Karachi to Lahore on the main highway.
It is reported to have exploded after fuel leaking from its damaged container caught fire.
A large crowd of people, including women and children, had gathered at the scene to collect the leaked oil, when the fire erupted.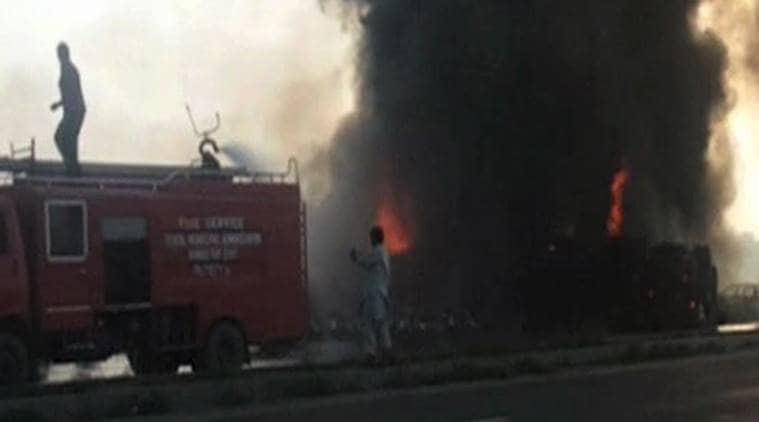 After about 10 minutes the tanker exploded in a huge fireball and enveloped the people collecting petrol. It was not clear how the fire started."
The charred wreckage of the motorcycles and cars could be seen scattered on the highway, along with kitchen utensils, pots, water coolers, jerrycans and buckets which victims had brought to collect the petrol. Initially death toll was 151, however the inured being lost their breath as the passage of time during treatment.
Related News: 
Siraj Asks SC to Take Suo Moto Notice on Oil Tanker Incident
Oil Tanker Incident: Another 8 Succumb to Injures, Death Toll soars to 188