Islamabad (November 10, 2017): Pakistan has offered India a meeting between convicted spy Kulbhushan Jadhav and his wife on humanitarian grounds in a statement given by Foreign Office (FO) on Friday.
According to the details, Pakistan has written a letter to the Indian High Commission proposing that the wife of convicted Indian spy, Kulbushan Jadhav, be allowed to come visit her husband.
Click Play Button to Watch this Video
Reportedly, the government has offered India to organise a meeting between the spy and his wife after repeated denial to grant consular access to the convicted spy since his arrest in spring 2016.
The letter also mentions that Jadhav's wife will be granted a visa and the meeting will occur in Pakistan.
"The Government of Pakistan has decided to arrange a meeting of Commander Kulbhushan Jadhav with his wife, in Pakistan, purely on humanitarian grounds. A Note Verbale to this effect has been sent to the Indian High Commission in Islamabad, today."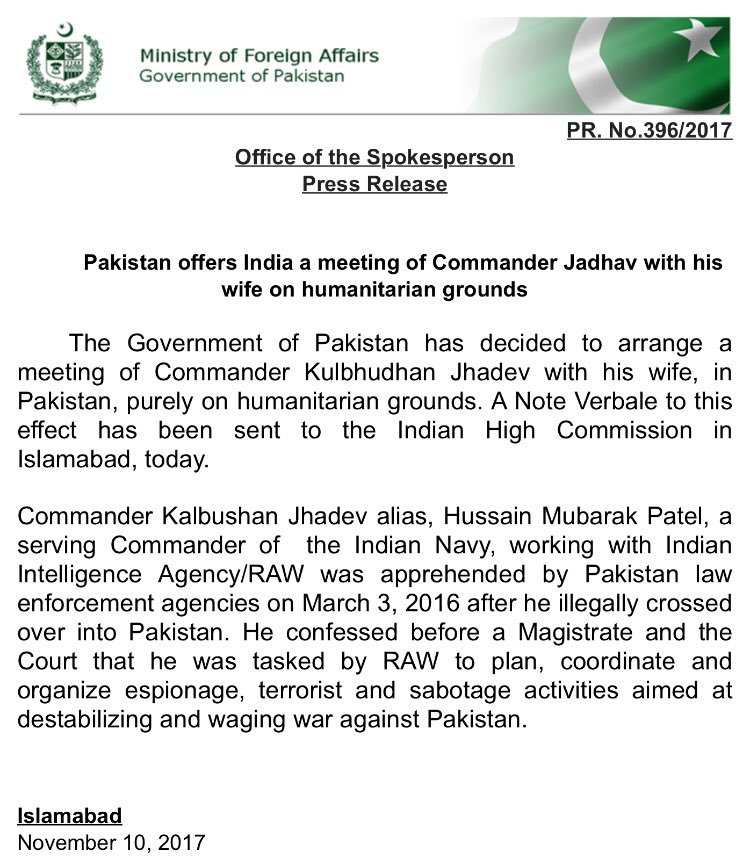 Jadhav was tried by a military court and sentenced to death for aiding terrorist attacks in Pakistan, fanning unrest in Karachi and attempting to jeopardise China-Pakistan Economic Corridor (CPEC).
According to the military, the Indian spy was provided with a legal counsel and a fair trial was carried out at the army court however, India approached International Court of Justice (ICJ) seeking halt to his sentence.
Pakistan was ordered by the court to not execute the prisoner until further order.
India and Pakistan have filed explanations sought by the international court in The Hague and the court is to proceed with the case.
Jadhav had confessed to the charges in a video which was posted online by Pakistan Army days after his arrest last year. He revealed that he was tasked by Indian authorities to sabotage CPEC and fan unrest in Pakistan.
Jadhav was held by law enforcement agencies hours after he entered Pakistan from Iranian port Chabahar. The convicted spy is an in-service Indian navy officer who was recruited by Research and Analysis Wing (RAW) of India.
On April 10, Pakistan had sentenced the RAW agent to death for carrying out espionage and sabotage activities in Balochistan and Karachi.
Chief of Army Staff General Qamar Javed Bajwa had confirmed the death sentence awarded by the Field General Court Martial (FGCM) under the Pakistan Army Act (PAA).
According to an ISPR press release, Kulbhusan Sundir Jadhav alias Hussein Mubarak Patel was arrested on March 3, 2016, through a counter-intelligence operation from Mashkel area of Balochistan for his involvement in espionage and sabotage actives in Pakistan.
Jadhav, an on-duty officer for the Indian Navy, confessed to his crimes in a recorded video statement televised by the ISPR last year following his arrest.
In a reaction to the move, Pakistan's relations with neighbour India tensed, and India approached the International Court of Justice (ICJ) to hear the case.
On May 18, ICJ ordered Pakistan to halt the execution of Indian spy Kulbhushan Jadhav until a final decision in the proceedings.
"Pakistan shall take all measures at its disposal to ensure that Jadhav is not executed pending the final decision in these proceedings," ordered Judge Ronny Abraham, president of the court, as he announced the decision.
The ICJ rejected Pakistan's stance and stated that the court had jurisdiction and would hear the case and seek arguments from both parties.
On September 13, India had submitted its reply to the ICJ pertaining to the case of convicted Indian spy Kulbhushan Jadhav, according to the Indian Ministry of External Affairs. Pakistan will submit its counter-pleadings in the case on December 13.