MUMBAI: Bollywood actor Ranveer Singh's name is not on the right side of the cards amongst fans as he was seen singing praises for Indian Prime Minister Narendra Modi.
Talking to media at the Vimal Filmfare Awards, Ranveer opened up about his recent interaction with PM Modi.
"I met the Prime Minister recently, we had a pleasant meeting. We apprised him as what we as young members of the film fraternity are doing and he had something to say to us which was that if possible we should choose content that has in it a message of inclusive India and unity," said Ranveer.
He added, "I was very happy to report to him that my very next film the one that I'm going to shoot next, 83, is one such film where it is truly team India. You have gentlemen from all across the country together to make the nation proud."
Following his briefing, Ranveer had to face criticism from netizens for interacting with the PM.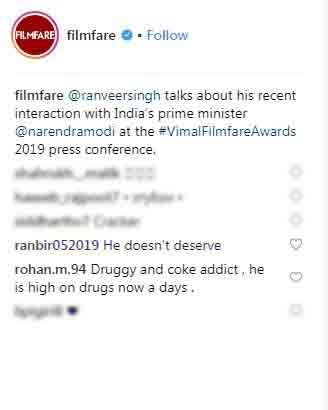 Earlier, Ranveer met with immense censure for meeting PM Modi and extolling him.