Islamabad (September 25, 2018): Twenty-one luxury vehicles were recovered after the Customs Department raided a private factory in the Rawat area on Tuesday, Geo reported.
According to the custom's officer, the Qatar Embassy in Islamabad was unable to provide documentation of the import or export of the luxury vehicles worth 250 million rupees, in spite of them bearing number plates of the embassy.
It was revealed that presently the vehicles are undergoing transfer from Custom House in Islamabad while an action for confiscation is also in progress.
On the other hand, Qatari Ambassador Saqr Bin Mubarak Al Mansouri in conversation with media claimed that the vehicles have been brought into the country through legal means in agreement with the Pakistani laws and are in possession of Qatar's ruling family.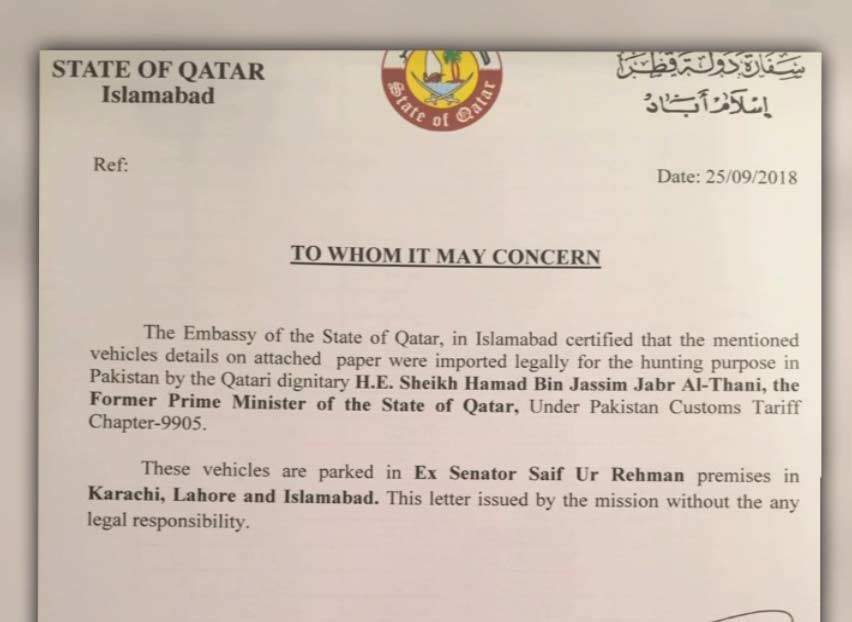 In his letter, Qatari Ambassador Saqr Bin Mubarak Al Mansouri said the luxury vehicles were legally brought to Pakistan and were then to be used for hunting purposes.
Related News: