Washington (January 20, 2018): The United States Supreme Court on Friday set up a major showdown over presidential powers, agreeing to decide the legality of President Donald Trump's latest travel ban targeting people from six Muslim-majority countries.
The conservative-majority court is due to hear arguments in April and issue a ruling by the end of June on whether the policy violates federal immigration law or the US Constitution's prohibition on religious discrimination. Trump's policy, announced in September, blocks entry into the United States of most people from Chad, Iran, Libya, Somalia, Syria and Yemen.
The legal fight involves the third version of a contentious policy Trump first sought to implement a week after taking office in January 2017.
The Supreme Court, which is handling a series of closely watched cases during its current term, signalled on Dec. 4 it was likely to uphold the ban when, on a 7-2 vote, it let it go into full effect while legal challenges by the state of Hawaii and others continued.
Lower courts had partially blocked the ban. The Republican president has said the policy is needed to protect the United States from terrorism by militants.
Those challenging the policy have argued it was motivated by Trump's enmity toward Muslims, pressing that point in court with some success by citing statements he made as a candidate and as president.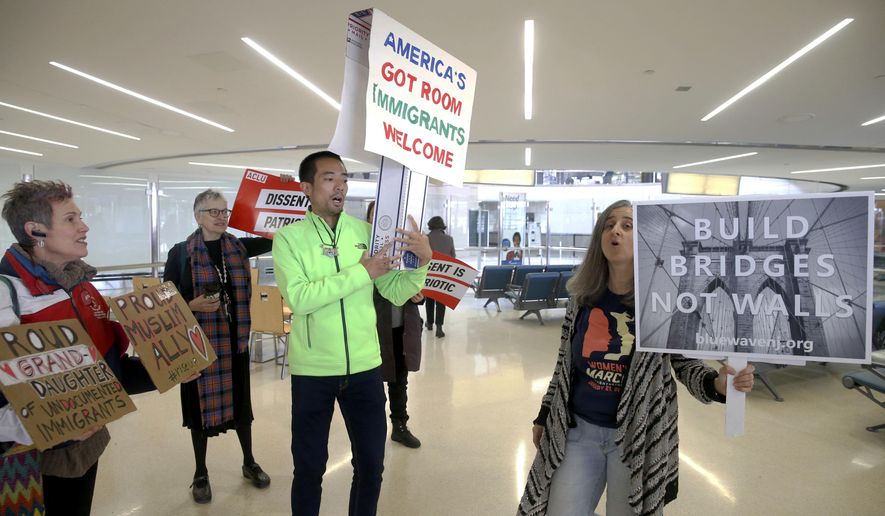 In November, he shared on Twitter anti-Muslim videos posted by a far-right British political figure.
In court papers, US Solicitor General Noel Francisco, arguing for the Trump administration, said the president has "broad authority to suspend or restrict the entry of aliens outside the United States when he deems it in the nation's interest."
The latest ban was introduced on Sept. 24 after what Francisco called an "extensive, worldwide review" to determine which foreign governments provide information required by the United States to vet those seeking entry.
Hawaii's lead lawyer Neal Katyal said in court papers that the president has only limited authority to exclude entry of people from other countries.
The law does not "surrender to the president a boundless authority to set the rules of entry and override the immigration laws at will," Katyal said in court papers.
Trump's ban also covers people from North Korea and certain government officials from Venezuela, but lower courts had already allowed those provisions to go into effect.
For people from the eight Muslim-majority countries named in any of Trump's three bans, there was a 41 percent drop in visas granted to enter the United States last year compared to before the bans were announced, government data showed.
Related News: